EDIT MAIN
What is a speech language pathologist?
A school-based speech/language pathologist assesses, diagnoses, and treats speech (articulation disorders), language (vocabulary skills), social communication (pragmatic language), voice, and fluency (stuttering) disorders. My job also includes developing and implementing IEP goals, writing reports, and observing students in various settings within the school.
.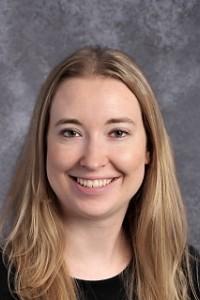 My name is Sarah Holtin and it is my privilege to be the new speech language pathologist for Mary Ellen Henderson Middle School. My husband and I moved to Tysons in July from Fort Riley, Kansas, where my husband was completing the last of his 6-year contract with the army. We are excited to get to know the community here, and love it so far!
Last year, I completed my clinical fellowship year as a clinical fellow speech pathologist with Geary County Schools USD 475. I served two elementary schools on Fort Riley, and earned my Certificate Of Clinical Competence at the end of the school year. I now hold a Certificate Of Clinical Competence from the American Speech and Hearing Association, and a Speech Pathologist License from the Virginia Board of Audiology and Speech Pathology.
I have loved working with middle school students since I interned at Highland Park Middle School in Dallas, Texas as a graduate student, and am so excited to be serving a middle school once again this year!
I became a speech language pathologist because I believe that having strong communication skills is so empowering to each of us. I am so excited to be an encouraging force for each of your students, and to show them all they are capable of.
I am looking forward to another great year!

Helpful Links
These links contain fun activities or useful information regarding speech and language. Choose from one of these categories:
Articulation - for students work on speech sounds
Language - for students working on comprehension, grammar, vocabulary-related skills
Pragmatic Language- for students working on social skills
Parent Info - links to various sites that provide speech and language information
Articulation Activities
Language Activities
Pragmatic Language Activities
My Everyday Speech: Social Skills Video Resources